Dr. Gordon Christensen explains the reasons for composite failure, most of which can be reduced or eliminated by careful procedures using his suggestions.
Q: I often see adult patients who have had amalgam restorations serving in their mouths for most of their lives. I also see relatively recently placed resin restorations with new caries, pieces broken out of them, or outright failures. Patients spend significant money for composite restorations, yet they seem to need replacement too soon. What are the major reasons for premature composite failure, and can they be avoided?
A: Resin-based composite came into dentistry in the mid-1950s and early 1960s. This material was intended to replace silicate cement as an anterior tooth restoration. The early composites were polymerized by chemicals, not light-curing, which caused significant discoloration during service. After a few months in the mouth, they showed high wear due to their large filler particles and the "plucking" of the filler as the resin continued to wear. This phenomenon produced rough restoration surfaces and collapse of the occlusion.
Despite these challenges, in about 1968, dental manufacturers advertised resin-based composite brands for posterior restorations. The resultant early class I and class II restorations failed soon after placement. Refinement of the resin formulations continued. During the mid-to-late 1970s and early 1980s, light-curing composites were introduced and welcomed by clinicians. Ease of use and better color stability were additional improvements. Continuing efforts were made to make posterior tooth composite restorations more esthetic and have lower wear by using a smaller filler particle size. Since the mid-1980s, better long-term smoothness has been the most significant improvement.
Current composites are the most used dental restorations, according to national dental coding records.
What are the current good characteristics of resin-based composite?
Wear during service is relatively acceptable and near equal to enamel wear.
Most companies have reduced filler particle size adequately to produce long-term smoothness to the naked eye.
Strength is adequate and fractures of properly placed composite material are infrequent.
Color stability is good.
Ease of handling is greatly improved and satisfactory to most practitioners.
Those characteristics sound good! What are the remaining challenges with composite materials that are causing premature failures, and what can clinicians do to reduce the potential failures (figure 1)?
Polymerization shrinkage
Based on both research and my clinical experience, this characteristic is the most significant remaining negative of composite material. Most composite resins shrink about 2% during polymerization. The result is open margins that are not visible to the naked eye but certainly evident to the electron microscope (figure 2). It is a foolish belief that composite margins are "sealed." They are obviously open, allowing access to mouth fluids and any oral microbes.
Most composite companies have attempted to solve the polymerization shrinkage problem, but it remains to this day. The margins of composite restorations are open, causing potential caries. So, what can clinicians do? Volumetrically, the amount of shrinkage of a small piece of composite is not as much as that of larger increments. To reduce the amount of marginal opening, reduce the amount of resin being cured at one time.
For example, consider the shrinkage in a class II box form. The resin is usually cured from the occlusal surface. Research at the University of Alabama (Dr. Nathaniel Lawson and other locations) has shown that when a significant quantity of resin is cured in a class II box form from the occlusal position, the gingival margin is opened. Consider if a small quantity (approximately 0.5 mm) of resin is placed in the box form on the apical part of the box and cured before placing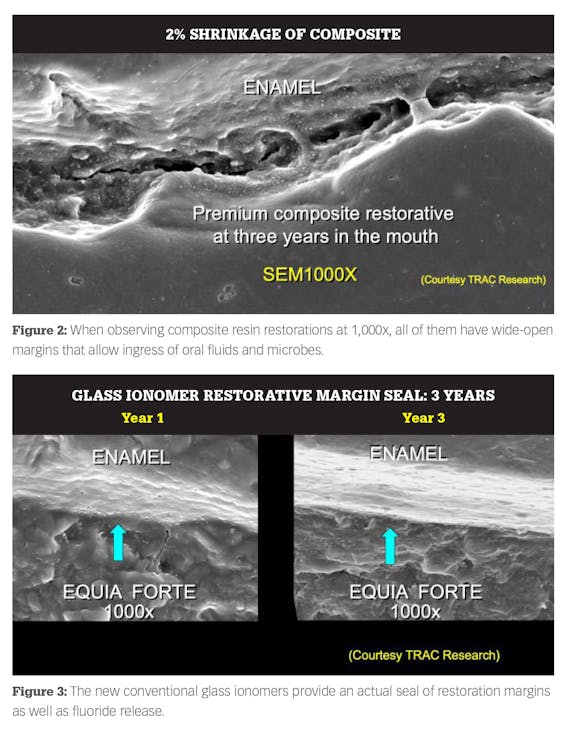 the majority needed for the box form. There is proportionately less shrinkage volumetrically in that small piece, and the margin gap is less.
Additionally, consider using smaller increments when restoring most of the restoration. Many researchers and clinicians support curing resin in approximately 2.0 mm increments to reduce the overall volumetric resin shrinkage.
Inadequate light-curing
This problem is usually from operator error! Inadequate light-curing is among the most major reasons for composite failure. Most of the currently used lights are adequate—if used properly—but curing large quantities of resin at one time encourages inadequate polymerization conversion, remaining monomer in the restoration, and subsequent caries. Dual-cure composite materials (Bulk EZ, LuxaCrown, etc.) should be considered in large composite resin restorations to compensate for inadequate resin polymerization by light-curing.
Lack of cariostatic properties
Composites usually do not have cariostatic properties, and microbes are free to create new caries lesions in the wide-open margins of composite restorations. Some companies have placed fluoride particles in composites, but the fluoride release in such restorations is minimal, according to research at the TRAC (Technologies in Restoratives and Caries Research) division of Clinicians Report Foundation.1,2
Placing glass ionomer (Equia Forte, Ketac Universal, or others) or resin-modified glass ionomer (Ketac Nano, Fuji II LC, or others) alone or under composite resin is well-known to offer cariostatic properties for dental restorations (figure 3).
A new composite recently introduced in the US (Infinix) has a characteristic called antimicrobiologic. This concept, which does not dissipate over time, kills microbes on contact. It is being investigated in several locations, including Clinicians Report Foundation. The concept is promising not just for composite but for numerous dental uses, such as on orthodontic brackets or implants.
Lack of tooth preparation disinfection
Tooth preparations have millions of organisms in them on completion. Historically, it was considered necessary to disinfect the tooth preparation, but over time, dentists have illogically moved away from this procedure. Research from the TRAC division of Clinicians Report Foundation has shown that disinfection of preps should be a mandatory procedure. Two one-minute applications of 5% glutaraldehyde–35% HEMA (Gluma, MicroPrime, etc.) are adequate to kill the microbes in tooth preparations and desensitize the tooth.3
Aggressive finishing procedures
Some dentists use aggressive procedures when finishing and polishing composite restorations. Aggressive finishing mutilates composite-tooth margins, leaving them wide-open microscopically and inviting dental caries. I suggest the following concepts:
Loupes on
Low-speed handpiece, electric preferred for precision cutting, high torque, and optimum speed control (Bien-Air, KaVo, NSK, etc.)
Light touch on tooth material-composite interface
No water. Water during this delicate procedure does not allow acceptable vision and encourages mutilation of the margin.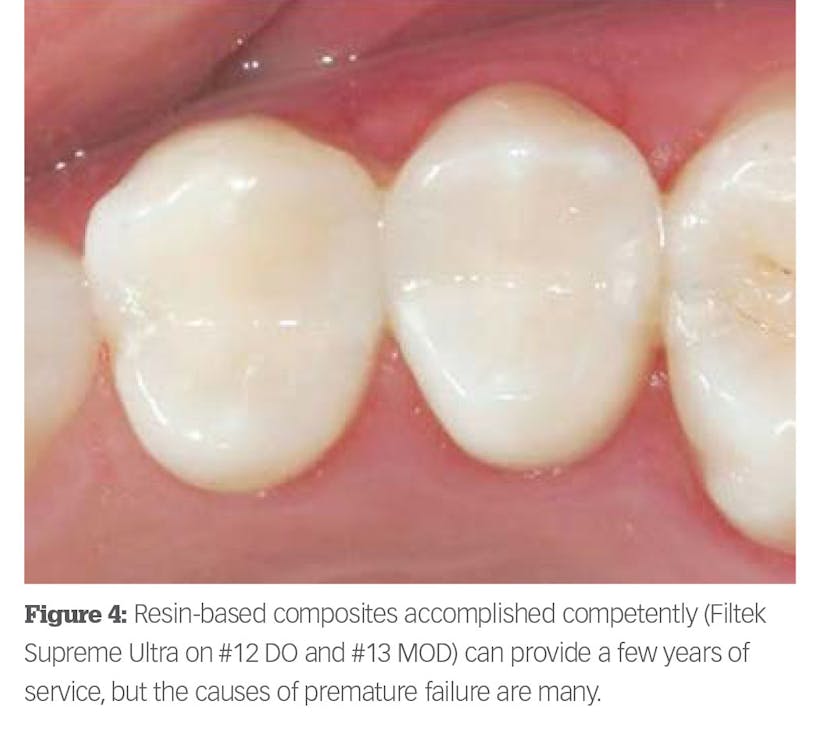 I consider resin-based composites to be only interim restorations. Research verifies that statement.4 Composite restorations are not what are needed today, and I do not see any new ones coming to satisfy the negatives listed above. In the meantime, dentists should advise patients of the relatively short service expectation for composite restorations and do their best to provide high-quality composite restorations (figure 4).
Summary
Composite restorations have relatively short service expectations because of their physical characteristics and their low revenue production, potentially encouraging less adequate restorations and operator errors. This article provides some of the reasons for composite failure, most of which can be reduced or eliminated by careful procedures using the suggestions here for how to avoid them.
References
Sealants 2016: extend longevity with proven products and technique. Clinicians Report. 2016;9(4).
Poggio C, Andenna G, Ceci M, Beltrami R, Colombo M, Cucca L. Fluoride release and uptake abilities of different fissure sealants. J Clin Exp Dent. 2016;8(3):e284-e289. doi:0.4317/jced.52775
Disinfection of tooth preparations—why and how? Clinicians Report. 2009;2(11).
Longevity of direct and indirect dental restorations. Clinicians Report. 2021;14(10).