If you need to replace missing teeth, you may be trying to decide between dentures and implants. Dentures are removable dental appliances that look like teeth. Implants are false teeth that sit on top of a post implanted directly into the bone. Dentists and oral surgeons consider an implant a long lasting and potentially permanent solution to missing teeth. A denture is durable, but it does not typically last as long as an implant. Dentures vs Implants.
Learn about the distinguishing features, pros and cons, and costs of dentures and implants. This article also describes permanent bridges.
Implants vs Dentures: Explained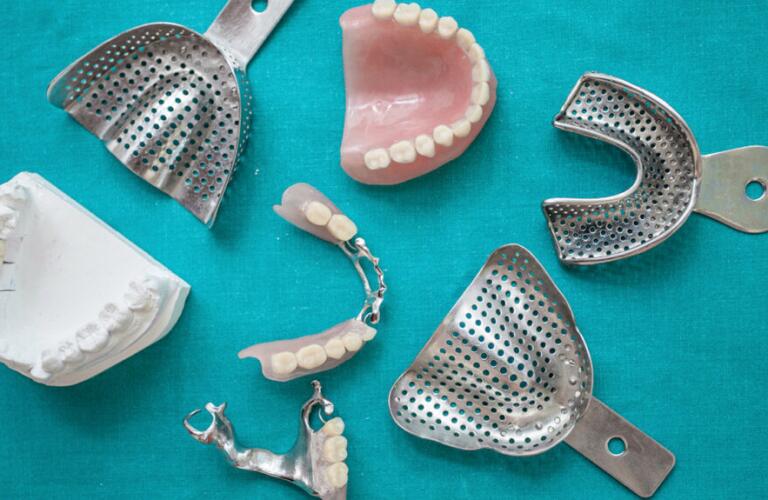 Dentures are among the oldest treatments for missing teeth. Another name for them is false teeth. Most dentures are removable.
The denture portion that mimics the tooth is made of acrylic. To build, or mill, dentures, the teeth fasten to a plate, or base, that resembles your natural gums. You wear the denture during the day and remove it at night for cleaning. Dentures stick to your gums either by natural suction or with an adhesive paste.
Types of dentures include:
complete dentures, which replace all of your teeth
partial dentures, which attach to your existing teeth
flexible dentures, which are softer and more flexible than traditional partial dentures
3D printed dentures
Some dental practices use
a digital image of the patient's mouth to 3D print fully removable dentures. In this case, the teeth and base portions are printed as one unit rather than milled.
The 3D printing approach helps both dentists and patients find the right treatment option because it can quickly produce "try-on" as well as temporary dentures while the patient waits in the office.
A 2020 review in the journal BMC Oral Health suggests that 3D printed dentures show "promising short-term clinical performance, positive patient-related results, and reasonable cost effectiveness." Refinements in digital denture technology and printing materials will increase their usefulness, as printed dentures are not as strong as milled dentures.
Learn more about dentures here.
Side effects of dentures
For about the first month after getting dentures, you may experience a reduced ability to taste, difficulty eating or drinking, and difficulties with your speech. Most of these issues are short-term side effects as your mouth adjusts. Long-term issues, such as an allergy to the adhesive paste, are also possible.
Benefits of dentures
The benefits of dentures are as follows:
They are cost effective.
No surgery is necessary beyond tooth extraction.
Metal plate dentures adjust to changes in your mouth structure.
Flexible dentures are stain- and odor-resistant.
Flexible dentures do not require an adhesive paste.
Possible complications or disadvantages of dentures
Some possible complications of dentures are as follows:
They may not last a lifetime.
Face shape can change over time due to a loss of jawbone.
They may become loose and start making clicking noises.
They are breakable.
They may cause mouth irritation.
Some dentures can be hard and uncomfortable.
Flexible dentures require strict oral hygiene.
Dental implants: Explained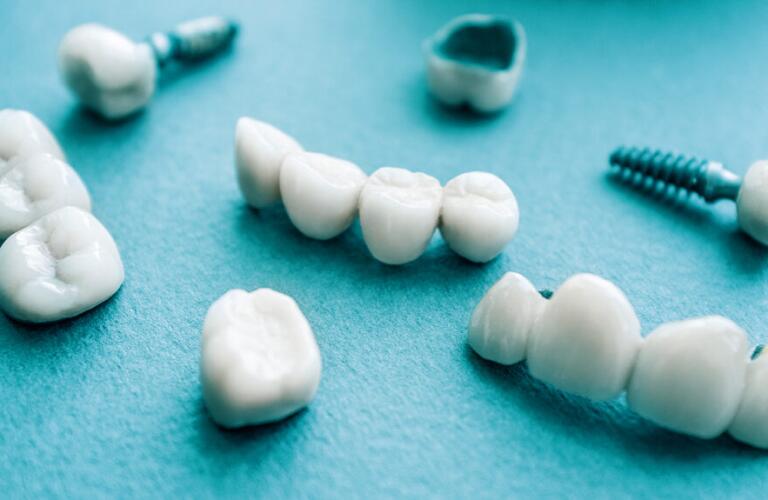 Dental implants are a permanent solution to tooth loss. The American Academy of Implant Dentistry (AAID) considers implants a safe and predictable option.
Dental implants are artificial tooth roots made of metal. The surgeon secures the implant within the jawbone. The dental implant will hold either a crown to replace a single tooth or a bridge to replace one or more teeth.
Benefits of dental implants
The benefits of dental implants are as follows:
They may last a lifetime.
They look like natural teeth.
They replace tooth roots, which helps prevent the jawbone from shrinking due to bone loss.
They are stable during eating and speaking.
Care includes brushing and flossing.
Possible complications or disadvantages of dental implants
Some possible complications of dental implants are as follows:
The implant body may loosen. This is known as implant failure.
There may be damage to the surrounding natural teeth during implant placement.
There may be an injury to the surrounding tissues during surgery, such as a bone fracture or sinus tear.
You may have difficulty chewing if the implant causes the bite to not line up.
You may experience numbness due to nerve damage.
Permanent bridge
A hybrid of dentures and dental implants, bridges replace a partial number of missing teeth.
Bridges are not removable. They consist of crowns on either side of the false teeth. The dentist bonds the crowns to the back of the surrounding teeth.
Learn more about dental bridges here.
Dentures vs. implants: Procedure details
The procedure for a denture is quite different than the procedure for a dental implant. The number of teeth needing replacement and the health of the existing bone factor into the details. Your dentist or oral surgeon will tailor the treatment plan according to your specific needs.
Dentures and bridges
Creating a denture or a permanent bridge can require several appointments, but the length of the process will vary among people and the type of denture required.
In general, you can expect it to last for several months for dentures and slightly less than this for bridges. That said, newer technology — such as the ability to 3D print dentures — has shortened production times considerably.
The steps for conventional dentures are as follows:
X-rays and consultation
tooth extraction
impressions or digital scans of your mouth
temporary denture or bridge
final denture or bridge
Some dentists make impressions and models of your teeth before removing them. With this approach, you receive the dentures immediately after tooth removal.
With 3D denture printing, a dentist can make dentures while you wait in the office. You can try on the denture to make sure it fits correctly. They can also print a so-called immediate denture.
Dental implants
Dental implant placement is a type of oral surgery. The oral surgeon performs this as a one- or two-step process.
In general, the two-step process includes these steps:
X-rays, 3D images, digital scans, and consultation
dental implant placement
6-month healing time as the jawbone bonds with the implant
implant connector placement
temporary crown (prosthetic tooth) or denture
permanent crown
In the one-stage approach, the surgeon places the connector at the same time as the implant. Osseointegration is the process of the implant fusing with bone.
If you require a bone graft procedure to augment your existing bone, this can add another 4 months to your treatment. Some procedures allow for implant placement at the same time as the bone augmentation procedure. Ask your surgeon about your options.
Dentures vs. implants: Durability and maintenance
If durability and easy maintenance are what you are looking for, dental implants may be a better choice for you than dentures.
Permanent bridges may be your next best solution, as these last for approximately 10–15 years with good oral hygiene.
Dentures are not as durable as dental implants. Dentures also require adjustments for any changes in your mouth, such as age-related changes or fluctuations in weight. Also, maintaining dentures requires nightly cleaning and soaking.
Choosing between dentures and implants: Factors to consider
As you make your decision, be sure to consider your:
Visualize what it will be like for you to live with a denture, permanent bridge, or dental implant. When considering your choices, be sure to include your dentist in the conversation. Talk with them about the pros and cons of dentures and implants. If you have additional questions, share them with your dentist at your consultation.

Summary
Restorative dental procedures are a personal decision. A one-size-fits-all solution does not exist. However, there are many options for tooth restoration.
In general, dentures cost less than implants, but there are pros and cons to both options. Discuss your dental situation, financial situation, and long-term goals with your dentist.